Vocational Spotlight: Richard Rader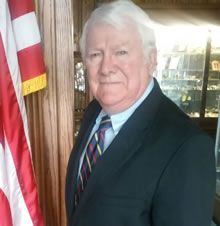 Richard Rader, lifelong resident of Macon, Georgia, is a graduate of the Citadel, A second generation jeweler of fifty years, Richard owns the C.R. Rader Co., founded in 1914 as S.L. Orr Co. and bought by his father in 1964.
C.R. Rader Co. is a fine jewelry store, specializing in diamonds, semi-precious colored stones and cultured fresh and salt water pearls. Rings, earrings, bracelets and necklaces are available in 14 karat and 18 karat gold, platinum and sterling. Inventory also offers select baby gifts, as well as, a fine selection of men's jewelry – cufflinks, belt buckles, belts and watch straps. Watch straps and belts come in a variety of leathers.
Rader's inventories new and estate sterling, silver plate and pewter holloware and decorative items for the home. Watch and jewelry repair are but two of the many services Rader's offers.
C.R. Rader Co. is located at Cherry Street and Cotton Avenue. Please contact us at (478)742-6494 or by fax at (478)750-8664 or by email at crraderco@att.net.