Vocational Spotlight: Jeffery O. Monroe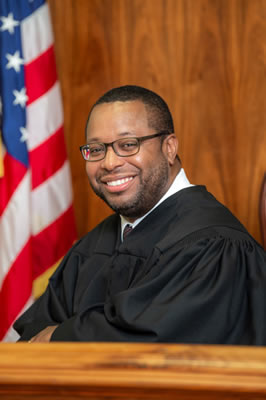 Jeffery O. Monroe is a Rotarian who is a judge with the Superior Court of the Macon Judicial Circuit. The Macon Judicial Circuit is composed of Bibb, Crawford and Peach Counties. Jeffery was appointed by Governor Bryan Kemp in May 2019 and sworn into office on July 10, 2019. Before coming to the Superior Court bench, Jeffery was a judge with the State Court of Bibb County and before he became a judge he practiced law with the law firm of Jones Cork, LLP and Anderson, Walker & Reichert, LLP. Jeffery is a 1996 graduate of the University of Georgia and a 2000 graduate of the University of Georgia School of Law. Jeffery met the love of his life, Sheila, at UGA and they have two sons: Jeffery, Jr. (Jay) who is a freshman at Georgia Southern and Culver, who is a senior at the Academy for Classical Education (ACE).
Jeffery has served the legal community as a past president of the Macon Bar Association; a past member of the Board of Governors of the State Bar of Georgia and as a member of the State Bar's Disciplinary Review Panel.
Jeffery has supported his local community through his involvement as Vice-Chair of the Macon-Bibb Land Bank Authority. As Chairman of the Laws Committee of the Macon-Bibb County Consolidation Transition Task Force, he worked to combine the City of Macon and Bibb County and consolidated their respective laws into one code of ordinances. He has served as a deacon of the Second Darien Missionary Baptist Church of Sparta, Georgia for 31 years and a Sunday School teacher for 34 years.